Celebrated International TableTop Day with nine straight jam-packed hours of gaming, graciously hosted by my friend Tom. So much fun. Here's what we played:
Started the day learning Takenoko. I'd been hearing good things about this one for awhile, and it was pretty easy to pick up, and a lot of fun.
Followed up with two brief Mars Attacks: The Dice Game contests –
and head-to-head Star Wars Trivial Pursuit. (Classic trilogy, of course.)
Then Munchkin Loot Letter.
And then our game crowd grew, so we played a tremendously fun game of Cockroach Poker (another first for me) –
– and an 8-person game of Tsuro that ended in a two-dragon tie. (I was the last dragon to actually lose.)
Even more folks showed up, so we split the party into three tables. I introduced a couple friends to Roll For It (which we played twice) –
– and then Zombie Dice, which we played once with the standard rules, and once with the School Bus expansion.
I wrapped up my day with back-to-back games of Betrayal at House on the Hill, which I'd never played before, and really enjoyed. The explorers triumphed over the betrayer both times, although my character died along the way in the second game.
So I learned three new games, played several that I don't get to tackle very often, and spent a full day reveling with friends in dice, luck, strategy, and fun. It was almost like a mini-Gen Con – including the "Hey-it's-almost-nine-o'clock-and-I-never-ate-dinner" thing. Not complaining in the least.
(In which John, having reached Indianapolis for Gen Con, unsurprisingly goes to Gen Con.)
Finishing up breakfast with Jonathan and Dave just after 8 a.m., it felt like it should have been much later in the day, since I'd been up most of the night. But I was ready to get The Best Four Days in Gaming under way.
Jonathan and I checked our luggage – we couldn't check into the hotel until Thursday afternoon – and after  short walk to the Indiana Convention Center later, we had checked into the press room made our way to the main exhibit hall.
Dave & Jonathan are really enthusiastic gamers, and it was fun seeing the two of them walk into this massive space packed with games… and practically freeze with overload. 
Before playing anything, I made sure to pick up my first free swag of the con – this sweet DungeonMorph die:
So, here's what I remember playing that morning:
Roll For It! – Hey! I won the first GeekDad-played game of Gen Con 2013! (Thanks to a bit of luck – it's a dice game, after all – and, I'd like to think, some lessons learned from playing too much Tali.)
Walk the Plank – I won this one, too, thus racking up two-thirds of my gaming victories that weekend in the first hour or so.
WeyKick – Jonathan's Gen Con photo set at GeekDad includes  a picture of Dave and me playing this tabletop soccer game.
Tok Tok Woodman – Here's another Jonathan Liu GeekDad photo.
Ooga Booga – Silly, silly fun.
Jonathan and Dave wanted to check out Robinson Crusoe – Jonathan included his thoughts on the game in his GeekDad gaming round-up) so I went along and watched for awhile, thinking ahead to lunch and a 1 p.m. appointment in Gamma World.
I was starting to take damage from the lack of sleep, so I excused myself from the Crusoe game table and headed out to find the food trucks that Kato & Wendy had mentioned were nearby.
A couple observations on post-2005 changes to the Indiana Convention Center:
The additional convention space that now occupies what used to be the RCA Dome was most welcome, and made a huge difference in the crowds and traffic compared to Star Wars Celebration III. While there were occasional bottlenecks in spots, for the most part, walking around Gen Con, I spent very little time in those zombie-shuffling shoulder-to-shoulder packs that seemed to fill the main SWC3 corridors.
The rise of the food truck industry has done wonders. One of my huge gripes about conventions is the lack of access to food other than the unremarkable and overpriced offerings within convention centers themselves. While I remember the Indy convention center having decent – if not quick – dining options within walking distance, there was nothing in 2005 to compare to the couple dozen food trucks that lined the neighboring streets this time around.
Right across the road, I found a truck offering bowls of homemade mac-and-cheese ladled over a scoop of pulled pork BBQ, and then baked for just a few minutes to get that nice golden brown top. That and a Coke did me up just right, and I felt much better heading over to Kato & Wendy's hotel for our scheduled Gamma World adventure.
I've written before about Kato's DM skills, so when he invited me to play in a GW adventure he was creating specifically for Gen Con, he didn't have to ask twice. I met up with him and Wendy, and we set up at a table in one of their hotel's public gathering areas. Three of their other friends joined us, and a four-hour post-apocalyptic quest ensued.
My random character generation? A highly dexterous felinoid demon. Naturally, I named him Cattygrumpus.
It was so meta, and so fun, and Kato's attention to detail and planning were on full display. The setting was Indianapolis itself, in the ruins of the convention center. After Gen Con, Kato explained it himself via Twitter, and shared some of the cool original art one of his friends – @symatt – contributed.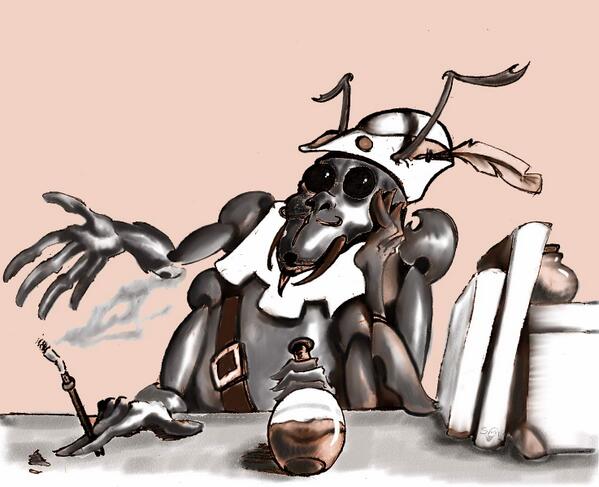 I collected Kato's Twitter descriptions and other art in this Storify piece.
And when the whole thing was over, we each got a couple custom Gamma World cards – again, worth reading for the detail.
So, having gotten my third wind, I headed off to check into the hotel and take a shower before attending A Night with Dungeons & Dragons. 
I met up with Kato & Wendy outside the Indiana Roof Ballroom, the interior of which was designed to evoke Baldur's Gate. And while there was a big puzzle/murder mystery activity you could participate in, the three of us spent most of the evening eating, drinking, talking, and enjoying the surroundings and talking to several nifty game creators.
Shortly after 10 p.m., I caught up with Jonathan and Dave in Hall D of the convention center – the main open gaming venue. They introduced me to The Great Heartland Hauling Co., and we played a game before calling it a day. (The game's inventor, Jason Kotarski, happened to be at the next table over, and posted this picture to Twitter.)
And that was it: Having been on the go since roughly 5:30 a.m. the day before, I slept well back at the hotel.
Writer for Hire: Me

Need an experienced, award-winning journalist, writer and blogger? Visit my writer-for-hire site,

FieldsEdge.com

.

GeekDad

I've been writing for

Wired

magazine's GeekDad blog since April 2009. An archive of my contributions

is here

.

Recent projects

Check out some of my latest work

here

.

Recent Posts

Want updates by email?

… or subscribe using your favorite reader:

Archives

Categories